Electric Bikes
Find the e-bike that's right for your ride.
Use our comparison chart and learn more about which e-bike fits your lifestyle.
Schwinn Knows E-Bikes
Most models include pedal assist and throttle up to 20 mph
"I give the bike [Schwinn Coston DX] high marks… it's a great go-to steed for commuting, errand running, recreational riding, hauling a kid in a child seat and other general purposes."
RoadBikeRider.com

Roam Farther with Superior Quality
Take on greater adventures with our e-bikes, which stay true to the superior quality that's made Schwinn famous for over 125 years.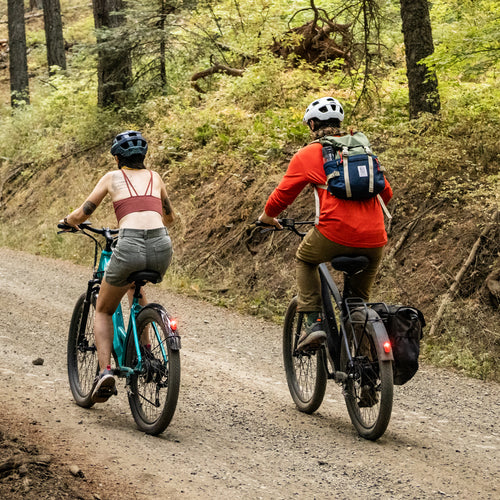 How far can I go?
When fully charged, Schwinn e-bike batteries last up to 45 miles. This estimate may vary depending on model, rider height/weight, and riding conditions.

Need more oomph? Our Coston and Marshall lines have an optional extended-life battery available that lets you go up to 80 miles per charge.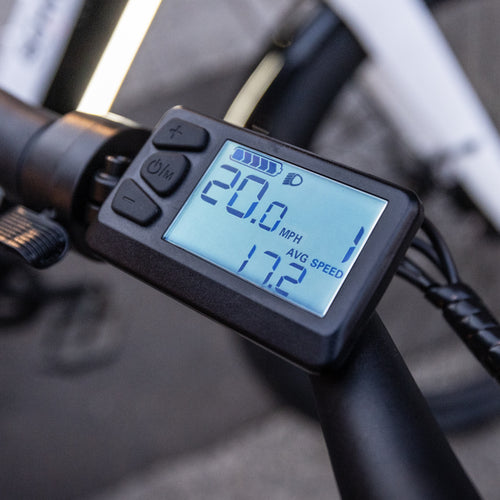 How fast is that boost?
Accelerate up to 20 mph with the pedal assist motor. Choose your level of assistance or ride without it completely. Select models feature a throttle, which makes it easy to get going from a stop.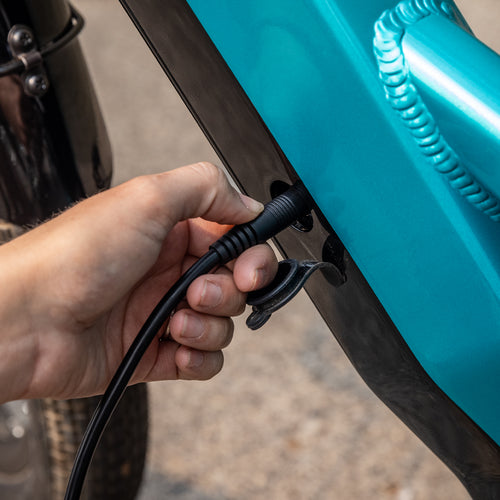 Charge Up and Ride
Easily recharge in as little as 4 hours with a standard household outlet and the included charging cable. E-bike batteries can be removed for charging or storage.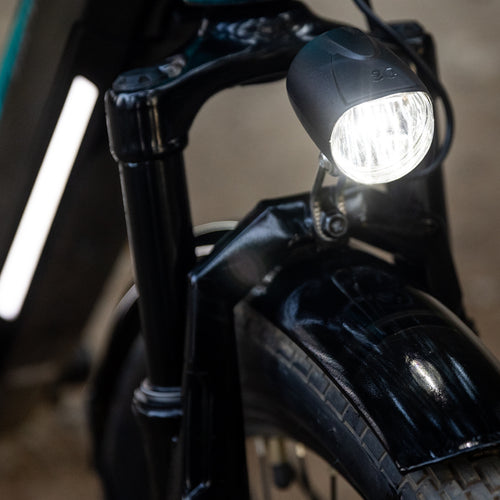 Light Up the Way
Many Schwinn e-bikes come with built-in lights. Headlights, taillights, and integrated frame lights help you see and be seen in low-light conditions.

Dig Into Details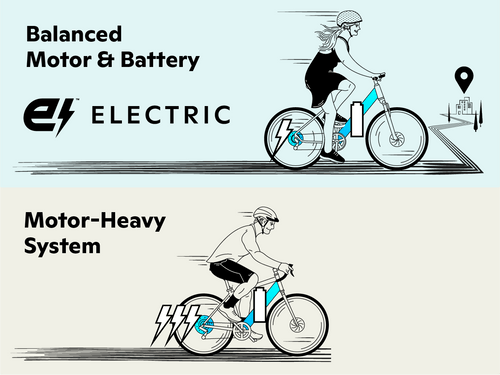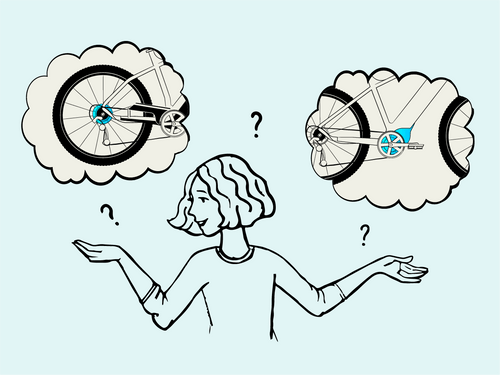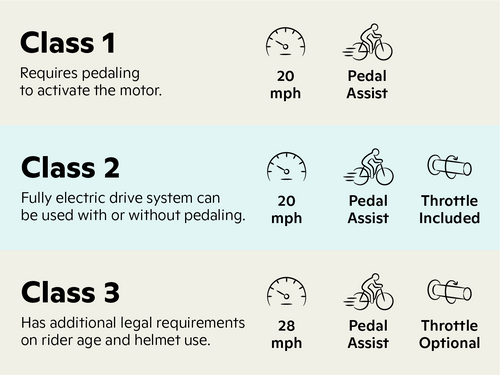 Dig Into Details
Wattage
Hub vs. Mid Drive
E-Bike Classification
We've calculated just the right balance of motor-wattage to battery capacity to give you the power you need and the distance you want. A higher wattage motor might sound impressive, but it can drain the battery faster, leaving you with less range.

Read more about wattage
A rear hub motor is located on the back wheel. It works by spinning the back wheel, creating the feeling of being pushed.

A mid-drive motor powers the bike's drivetrain instead of the wheel hub. This style creates a natural sensation that one would typically feel while riding a bike.

Most Schwinn e-bikes feature a hub drive motor because it requires little to no maintenance. In the event a replacement is needed, the motor is easy to replace as part of the wheel. This makes it easy for riders that are new to e-bikes.


There are three classes of e-bikes. All Schwinn e-bikes are Class 2, which are the most widely accepted. They include both pedal assist and throttle functions, with a top speed of 20 MPH. Class 2 e-bikes are approved for use on bike trails in most cities and states.
All the Details
Learn more about our e-bikes and see them in action.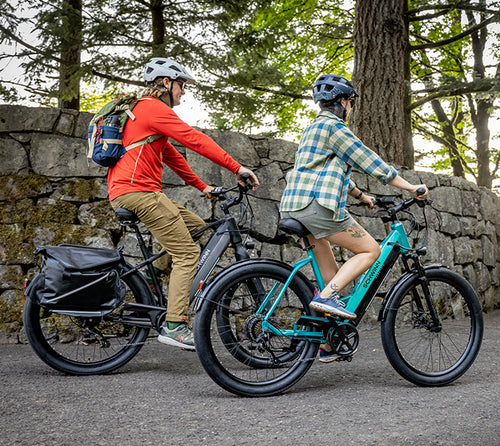 Hybrid E-Bikes
Whether you're commuting, exploring new trails, tooling around town, or all of the above, a sport hybrid e-bike can handle it all. Schwinn e-bikes deliver the same great riding experience with the addition of pedal assist motors and rechargeable batteries that let you roam farther than ever before.
Best For: Pavement or Light Trails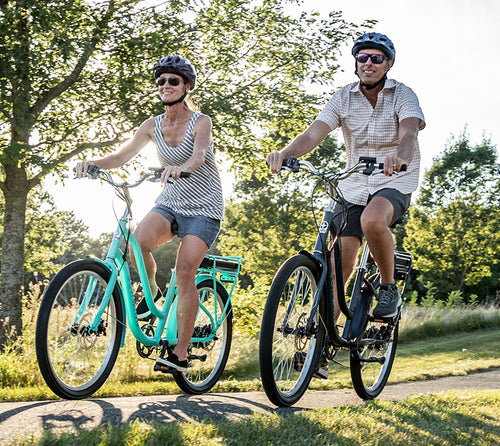 Cruiser E-Bikes
Visit your friend across town, explore a new bike path, and check out the *other* coffee shop – it's all within reach with a stylish cruiser e-bike. These e-bikes deliver the same comfortable upright riding experience with the addition of a pedal assist motor and rechargeable battery that let you roam farther than ever before.
Riding Position: Relaxed Upright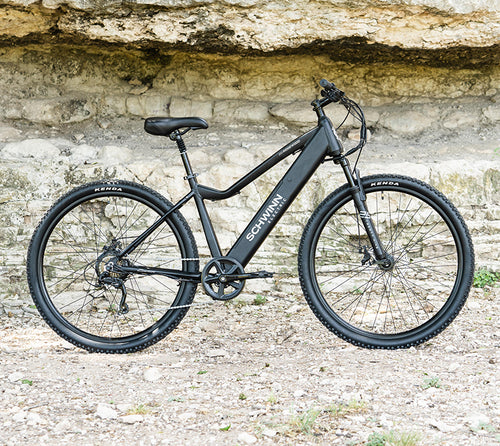 Mountain E-Bikes
Take your adventure further than ever before with an electric mountain bike. These e-bikes deliver the same trail-ready riding experience with the addition of a pedal assist motor and rechargeable battery that let you roam farther and take on steep hills with ease.
Tire Type: Knobby Mountain
Why Schwinn E-bikes are the Right Choice
Our e-bikes offer a superior ride with great features, but that's not all. When you buy an e-bike from Schwinn, you also get the following benefits:
FAQ
Which electric bike is best?
The best bike for you depends on how you will be using it. You'll need to consider the type of terrain and style of riding you prefer, as well as how far you want to ride before recharging the battery. For example the Healy Ridge and Ridgewood e-bikes are great for trails and other off-road rides, whereas the Mendocino is perfect for casual cruising around the neighborhood. If you're looking for a great all-around e-bike that can do a little bit of everything, check out our Coston and Marshall e-bikes. But it doesn't stop there. Most of our e-bikes are available with both stand-over and step-thru frames, so you can pick the right frame style for you. Many e-bikes also include extra features like integrated lights, storage, fenders, rear racks, and more. You can even add your own extras with our selection of e-bike accessories, including water-resistant pannier bags and heavy-duty e-bike locks. So, no matter how you like to ride, there's an e-bike for you. For more information, check out our blog post on e-bike styles.

How do electric bikes work?
Electric bikes, at their core, are just like any other non-electric or analog bicycle. While electric bikes and analog bikes have pretty much all the same parts, e-bikes also have an electrical component that gives you an added boost, whenever you need it. The pedal assist function activates the motor only while you're pedaling, amplifying the effort you put into it. The throttle function activates the motor without the need to pedal at all. In both cases, the motors on Schwinn e-bikes will only accelerate up to 20 mph to maintain a controlled ride. Learn more about the motor on our blog post, Expert Explanation: E-Bike Wattage, Range, and Weight.

What is the best electric bike for seniors?
For seniors, we recommend an e-bike with a step-thru frame and upright riding position. This frame style makes it easier to get on and off the bike, and an upright riding position is easier on the lower back. The frame is also designed to be lighter for easier handling, and includes wider tires for extra stability. Examples of this style include both the Coston DX and Mendocino Step-Thru models.

How fast do electric bikes go?
The permitted top speed for an e-bike depends on its classification. There are 3 classes of e-bikes:
- Class 1 only includes pedal assist (not throttle) and has a maximum speed of 20 mph.
- Class 2 includes pedal assist and throttle, with a maximum speed of 20 mph.
- Class 3 only includes pedal assist (not throttle) and has a maximum speed of 28 mph.
Schwinn e-bikes are Class 2, which is the most widely accepted for cities and trails, so you'll be able to ride just about anywhere. However, it's always a good idea to check your local regulations before riding.

How many miles can an electric bike go?
An e-bikes battery range can vary quite a bit depending on riding conditions like hills, the height/weight of the rider, and the level of assist being used. Many Schwinn e-bikes have a battery range of 35 to 45 miles per charge. Extended range batteries have a range of up to 80 miles per charge. For more information, check out our blog post, Expert Explanation: E-Bike Wattage, Range, and Weight.

How much does an electric bike cost?
Prices for e-bikes currently on the market can vary widely. Here at Schwinn, we worked hard to develop a high-quality ride that won't break the bank. Plus, we believe in our bikes and back them up with one of the best warranty programs around. We also support finance options with Affirm.

Where can I buy an electric bike?
Schwinn e-bikes are available for purchase right here on the Schwinn website! Shop now. Schwinn e-bikes are also available through Dick's Sporting Goods, where select models are available for an in-store test ride.